I don't know what it is but there's something very cozy and satisfying about wearing all white at the beach. Anyone else with me on this? Maybe it's because the color has the most success in emphasizing our summer tans.. or that could just be the Jersey girl in me.
Even though it's been blistering hot this month, I'll find any excuse to wear a great pair of wide leg trousers to the beach if I can help it. That is, if the chances I won't pass out from heat stroke while wearing them are low. Thankfully, most trousers meant for the summer are made with breathable, airy fabrics like linen or light cotton. Plus, the higher waisted they are means the shorter the crop top you can wear along with it.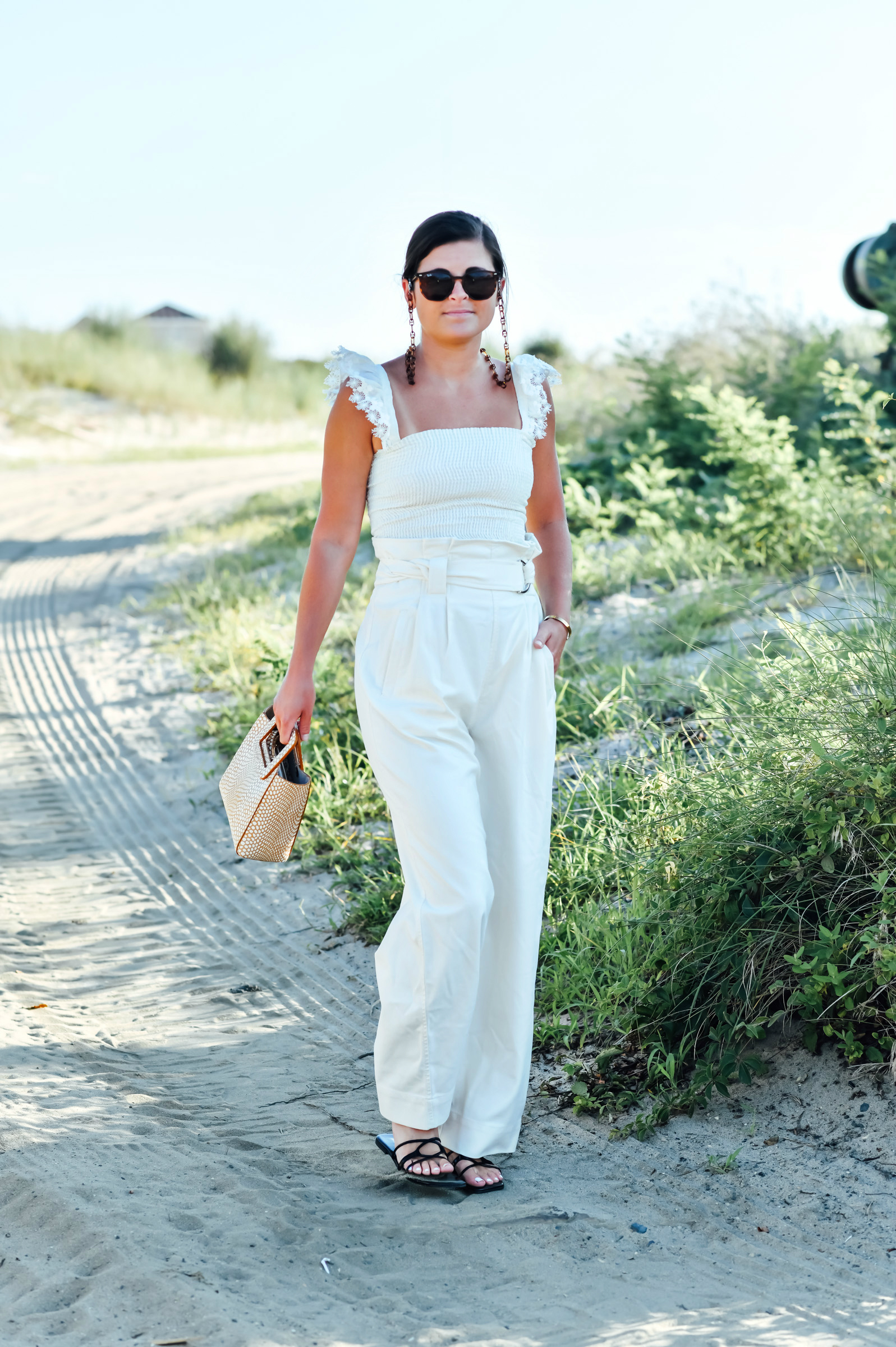 ..
Normally I wouldn't pay up for pants that I only get to wear for season or two each year but I've recognized that it makes more sense longterm to invest in quality pieces that will hold up year after year, in this case summer after summer. I'll always wear white trousers/pants to the beach, without hesitation. So focusing my attention on getting a better-made pair that I'll have for 5+ years, with multiple wears per year, justifies the stretch in my dollar that much more. Compared to buying something cheaply-made that might make it 1-2 years if I don't "over-wear" it. Just a personal opinion/preference, but it's something I've realized only recently (or maybe since I turned 29 lol.)
PS – on an entirely different note: if you've been looking for a new sandal, you might want to consider the flat minimalist slide. What I love so much about this pair I'm wearing here is that it has the look of a dressier shoe option without the added height (i.e. wedge or pump.) For someone like me who's all about the comfort and lack of heel, esp during the summer, I can't get enough. They also go with pretty much everything already, another bonus!
---

---