When I moved into my apartment, I realized my living, dining, and bedroom spaces lacked built-in lighting. I'm very lucky that my apartment gets so much natural light that I hardly have to turn any sort of lamp on, with the exception of when it gets dark out. That being said, I often work late nights and given that my desk is located in my bedroom (doubling the space as an office), finding a solution for this area became a priority.
My bedroom isn't the largest and unlike my former studio apartment, I don't have the crown molding to hide the wires from a hanging light like I formerly did. So I had to become open to the idea of an industrial light fixture where wires would show; but finding an affordable solution that was cohesive with the overall decor and aesthetic I've established wouldn't prove to be easy. Almost everything I found online was close but not exactly what I'd envisioned, and anything that came close to what I had in mind was WAY too expensive.
Therefore, I had to put my creative talents to the test and DIY the lighting I was searching for, yet didn't exist…until now!
WHAT YOU WILL NEED
…
(2) Plug In 17′ Pendant Light Cords
(2) LED Daylight Vintage Filament Clear Glass Globe Light Bulbs
Hammer, Nails, Tape Measure, & Step Ladder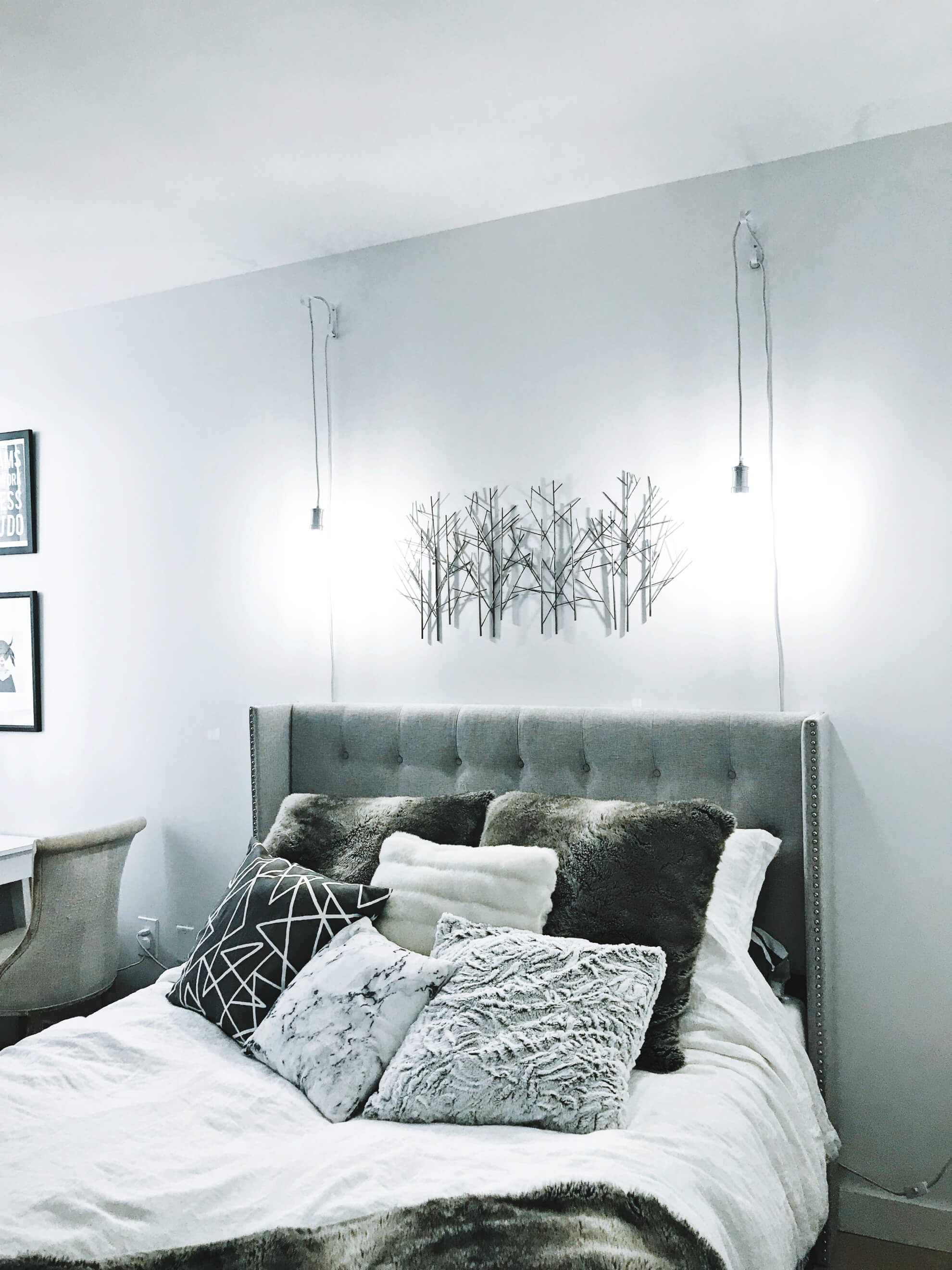 My goal was to find a pendant light cord that matched my bedroom's grey & white color scheme and was long enough to allow for the lights to hang comfortably at length, reaching the middle of my wall art piece on either side. When I found this generous 17′ grey & white twisted fabric cord, I definitely felt like I hit the jackpot in terms of the perfect color combo to match. The best part is the on/off switch located near the plug that makes turning these lights on & off very easy to manage.
I didn't want the brackets to be too large yet I needed the longer length to project far enough outward so the bulbs would hang without grazing the wall behind them. I also needed them to blend in with the wall color, so finding the right size in white became the challenge until I found the perfect set which were advertised as hanging plant brackets – not shelf brackets!
Finally, I wanted the bulbs to be large enough to make a statement and offer LED Daylight (white) light to match the rest of my lighting options. I can't stand the warm white lighting options, as I find them to be more yellow than white. As a general FYI, LED Daylight is the best option of white light if you're dependent on lighting for photos.
When I found these large clear globes that offered my preferred lighting tone, I was thrilled! And as you can see above, they both do a fantastic job in lighting up my entire bedroom!
---