Not gonna lie, I dream about the day we have the dining space & table size to accommodate a true holiday tablescape for 6+. However, it's still important to share the more realistic moments of decorating on the smaller scale – like a round table for 2 people who don't have the space (or willingness) to host more than themselves this Easter.
A lot of us travel to spend this particular weekend with family, outside of our own homes. But that doesn't mean you still can't decorate or find a fun excuse to host for a partner or roommate(s). Plus like the Christmas season, decorating for Spring is another great way to jumpstart the cheer – especially after the dark winter months.
On the other hand, now that we're in a house with more storage space (granted it's not a ton, but it's more than we've ever had in apartments) we actually have the ability to store holiday/seasonal decor more efficiently. That being said, I still wanted to decorate with more of a focus on the spring season instead of thematic rabbits and painted eggs galore. As you'll see in this post, there's more of an evergreen concept in the decorative items I've chosen to display this year.
…
Although this exact tablecloth color isn't on the site page, this is the name of the brand & I will say, there are a lot of pretty patterns I wish I had a choice of choosing at the time. I couldn't find anything close to the Artificial Greenery Placemat (from Hobby Lobby) that is placed on the Lazy Susan, but these beautifully-made moss placemats look much better quality if you're inspired by a natural greenery approach..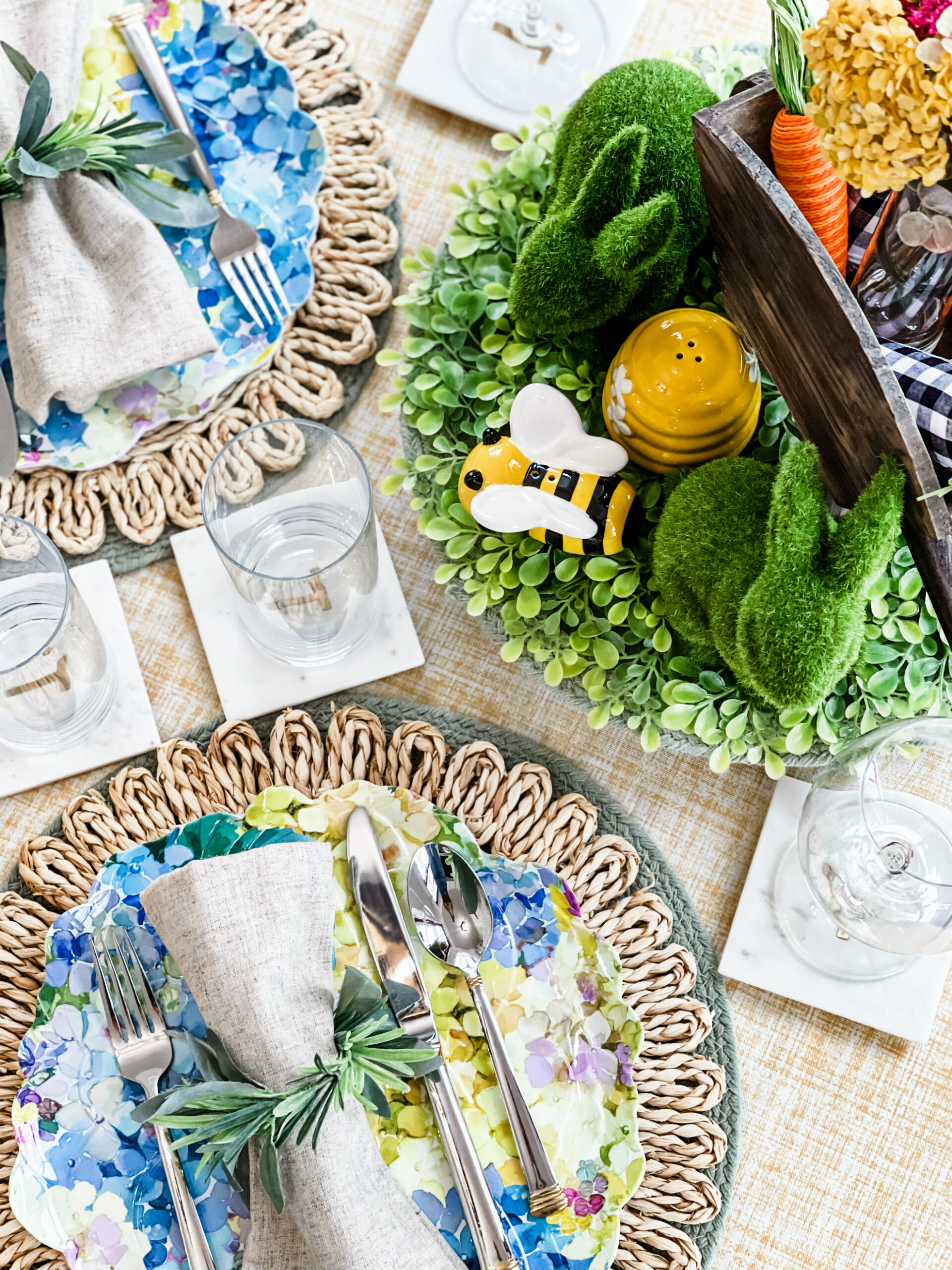 Fabric Carrots (here's a similar 12-pc set with rabbits) | Bee Salt & Pepper Shaker (another cute bee hive set here)
…
Funny enough, I found this exact Bee & Hive Shaker Set on eBay – listed by a couple sellers. But decided to link to a similar one above in case these sell & never get listed again, for those reading this post a year or more past it's original publishing (2022.)
Sage Green Round Placemats | Woven Placemats (here's a flat version of similar shape & color) | Watercolor Floral Plates | Linen Napkins | Greenery Napkin Rings | Lennox Flatware Set
The best part about these plates is the fact they're durable – meant for indoor/outdoor dining aka made of hardy plastic! Still dishwasher safe, too. And as for this Flatware I've displayed on the plate (on purpose, due to limited table space) – I've had it since 2015 and all of the pieces have held up beautifully!
Monogram Ceramic Coasters | Red Wine Glasses | Drinking Glasses
—
Well there you have it! It's a small scale decorative attempt, but it gets the job done and can continue to be displayed past the Easter season (& hopefully for many more spring seasons to come.)
---