For as long as I can remember, I've never liked styling my hair.
For starters, my hair is super long & always a tangled mess despite my efforts to keep it tame. I'm completely inept when it comes to using anything other than a straightener, which I probably don't use to its full potential. And if I'm getting ready for anything that encourages dressing up, I have to factor in at least 2 hours to accomplish showering, drying, & styling just so I have enough time to buffer my frustration while getting ready.
Styling my hair has only ever been a major headache for me, and I've learned to accept that such talent is not in my wheelhouse. Some people are naturally gifted in the beauty department; I can say with confidence I'm NOT…
—
…but I might now be the queen of faking a professional stylist title, thanks to the Dyson Airwrap. Here's why:
ATTRACTS & WRAPS HAIR, USING ONLY AIR
…
Just like some of its infamous vacuums, the power behind the Dyson Airwrap is in the digital motor V9. Once turned on, the motor harnesses an aerodynamic phenomenon called The Coanda Effect, which essentially attracts & wraps hair around the barrel simultaneously.
Your only responsibility is to track each lock of hair along the direction of the indicated arrows on the barrel; once hair is attracted, you'll see it automatically wrap around the barrel and curl in a matter of seconds! It's like having a stylist in the palm of your hand. I couldn't believe how easy it was to look like I just left the salon!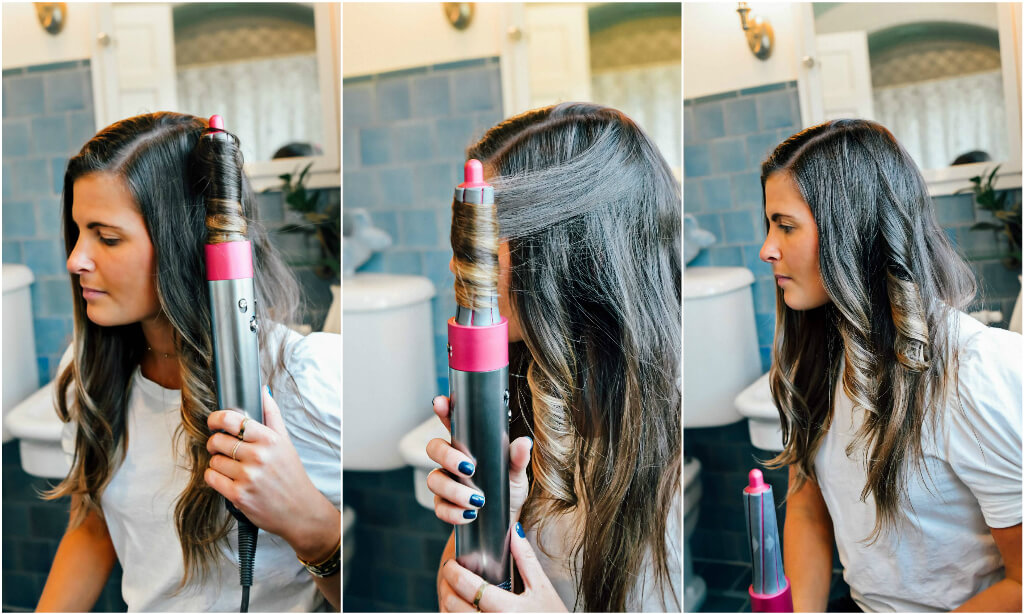 NO CLAMPS, NO EXTREME HEAT, NO DAMAGE
…
Unlike other styling products, the Dyson Airwrap uses high pressure, high velocity air ~ and just air alone! It doesn't rely on extreme heat to style, which often contributes to hair damage with continuous exposure over time. The benefit of using air over extreme heat, besides maintaining hair health in the process, is achieving more volume within the curl itself; leaving you with a shiny, gorgeous head of happy curls that are there to stay throughout the day.
CURL. WAVE. SMOOTH. DRY.
…
As I mentioned before, my hair gets tangled very easily & tends to run on the thicker side, thus contributing to the exhausting hours of styling it properly in the past. The Dyson Airwrap is designed with every one in mind, which is why there are different styling attachments to choose from that are engineered for your hair type & desired style.
(2) 1.2 Inch Airwrap Barrels
Creates smaller, tighter curls/waves using the Coanda Effect.
---
(2) 1.6 Inch Airwrap Barrels
Creates loose curls/waves using the Coanda Effect. *what I'm using above.
---
Firm Smoothing Brush
Creates a straighter style with less frizz & fewer flyaways.
---
Soft Smoothing Brush
Creates a smooth, blow-dry finish. Designed to be more gentle for sensitive scalps.
---
Round Volumizing Brush
Engineered to give body & shape to limp, flat hair.
---
Pre-Styling Dryer
Takes hair from wet to damp, ready for styling.
THE "MANE" ATTRACTION
…
In case you didn't know, the Dyson Airwrap has been sold out for a long time & is now finally back in stock! Recapping all the benefits to this miracle device, there's a reason it was flying off the shelves before and I have no doubt it'll be sold out again this time.
---
But is it worth the price tag..?
---
Here's the thing – Yes, it's expensive but like any worthwhile product, the price is in the high quality of its manufacturing, along with the many years of successful use & hair health it will bring you as a result. It's an investment, no doubt about it but it's one that should be worth considering.
Just like our skin, our hair is an indicator of our age & reflects the process accordingly over time. It also has the ability to speed up the appearance of looking older than we are, if we're negligent about the repercussions of damage we sometimes subject our hair to both voluntarily (extreme heat styling tools) & involuntarily (pollution/environment.)
In short, investing in your hair's health is the best thing you can do for it down the road. I can honestly say I've never been so happy with a styling product IN MY LIFE & can proudly say I ENJOY DOING MY HAIR NOW! It's no longer a chore nor a headache; and the results speak for themselves when I look in the mirror (post-styling) nowadays.
—
CURIOUS TO SEE IT IN ACTION?
I filmed myself using the Dyson Airwrap for the first time on my IG Stories & wait til you see my reaction! I also had my mom try it out for herself & I swear I've NEVER seen her hair look SO GOOD. I also saved these clips to my IG Highlights in case anyone is reading this post at a later date ~ head over to my IG & click the one that says "Dyson Airwrap."
---
Special thanks to Dyson for partnering with me for this epic review! All opinions are genuine & my own.