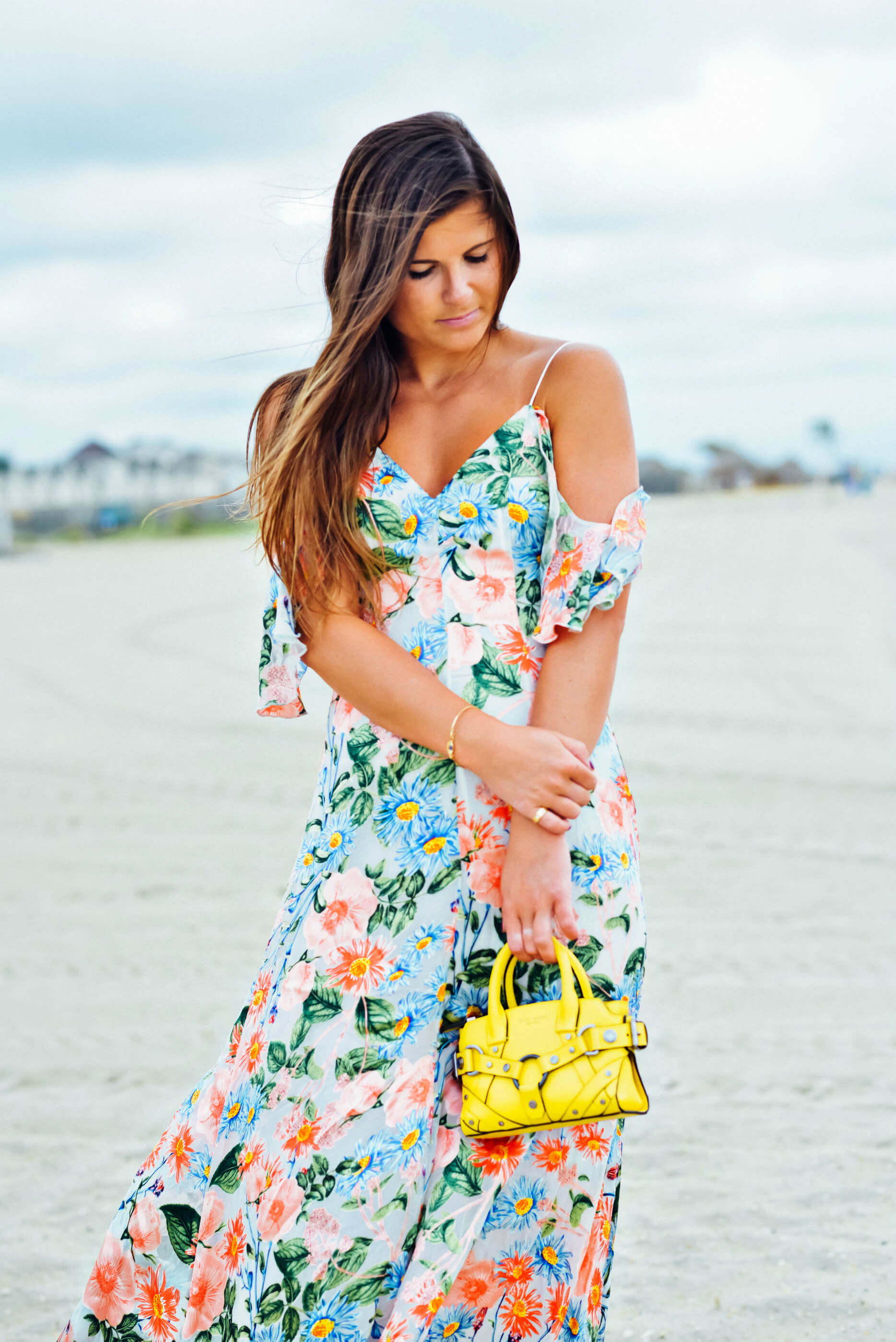 ⇥ Dress: Alice + Olivia | Sandals: Sam Edelman | Bag: Henri Bendel
⇥ Cartier Ring & Delfina Delettrez Bracelet: c/o Flont
…
I'm officially at the age where my friends are starting the next chapters of their lives; from moving in with someone, buying a home, having/expecting a baby, and of course getting engaged & married. One of my best friends is marrying the guy of her dreams next Friday and I cannot wait to watch them celebrate as their first day as husband & wife.
Given that weddings are becoming more frequent in my life, so are the variety of options when it comes to what to wear. Along with the venue, the season itself is another important factor when determining what's deemed appropriate to wear. Thankfully September is still considered a summer month, so I'm going for a look that embraces the best of the warm temperatures we'll still have.
Dressing for a wedding doesn't always revolve around the obvious. In fact, I'm very particular about the jewelry  that I choose to wear in coordination with my fabric ensemble. A wedding boasts for the perfect excuse to wear the nicest pieces you own, or borrow! Sometimes the latter gives you more opportunity to pair your outfit with something ultra lust-worthy, as well as see what a luxury piece looks like when worn outside a store setting.
Flont is a fine jewelry rental service that allows you to borrow a set price point of luxury jewelry per monthly membership or 3-day rental programs. You can consider it as your never-ending fine jewelry box for special occasions &/or every day wear!
…
Perks of a Flont Membership:
Each membership type is uniquely designed to solve your jewelry needs
Keep jewels as long as you like, return what you want, & repeat with new styles that you self-select to receive each month
2-Day shipping, with pre-paid return label included
Purchase anything you love with an exclusive member discount
With every rental, you're helping the world by enabling sustainability!
…
Wedding aside, having the opportunity to see what a Cartier Diamond Love Band ring looked like on my finger got me the most excited! Being able to rock it casually for this borrowed moment helped ensure my desire to someday get one for myself (in my far away dreams..)
---
There are 3 types of membership levels to choose from:
For those looking to experiment & have fun with her everyday style
Demi: $59/month, up to $1,500 of jewels at a time to borrow as long as you'd like/return/repeat
Demi X: $119/month, all perks of Demi with a doubled monthly limit up to $2,500 at one time
Featured designer pieces including Delfina Deletrez, Selin Kent, Meredith Kahn, & more!
…
For those looking for a standout jewel to wear every day
Fine: $239/month, up to $5,000 of jewels from both FINE & DEMI collections, keep what you love with exclusive members-only pricing
Fine X: $379/month, all perks of Fine with limit up to $8,000 of jewels to borrow at one time
Select from top brands including Cartier, Gucci, Tiffany & Co., Van Cleef Arpels, & more!
…
For those looking to upgrade their unlimited jewelry wardrobe
3-Day Rentals: Starting pieces at $399, one-time rental option for those wishing to indulge without committing to a membership
Borrow from brands including Hearts On Fire, Mimi So, Crow's Nest, Colette, & more!
On another note, this might be one of the only times I can wear this beautiful floral maxi dress for the rest of the year. Upon first glance, I fell in love with the delicate shoulder details and plunging low back. The material is generous enough to fit comfortably as to flaunt my natural curves without suffocation, as well as flexible enough for me to dance around in. I might end up tying the bottom hem just in case, & I love having the option to do so!
Knowing I'll have the perfect pieces of jewelry to complete this special summer occasion look is beyond reassuring. I can't wait to represent my best friend on her wedding day; one we will always remember & cherish as we do our beautiful girl.

---